Got a 7 point yesterday, weighed 142 feild dressed. Ridgerunner and I travelling together yesterday as we were hunting the same general area. On our way he run over a licence plate and ended up getting a hole in his tire. So we come back and got my truck. He dropped me off at a spot where I always had good luck seeing deer. I walked up through a small clearcut to get to the woods. I had only be stillhunting for about 10 minutes when I spotted movement on my left. I got a glimpse of antler then the buck stopped behind a tree. A few minutes later at 30 yards he started quartering towards me. I raised the gun then put it down as for a moment I wasn't going to take him. Then the gun went up again and I fired. The buck took off and I threw another quick one at him. As I was standing there a little doe blatted then ran down toward the cut at 40 yards away. She stood few a few minutes than ran back up towards the base of the ridge right by me at a mere 5 yards. I then found a little blood 20 yards from where I hit him. Went a little farther and the blood trail got real good. He was piled up about about 50 yards from that. Ended up only being a 130 yard drag downhill
. I'll put some pics up later on.
This is how I found him.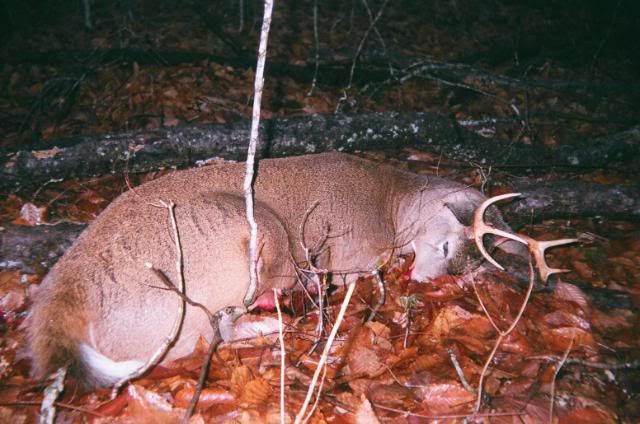 The ole 7600 did the trick.
Looking up to where I shot him.

My crazy family.