Discussion Starter
·
#1
·
Selling some excess bullets from my own casting. Have way more lean than I really need, happy to pass some on to others who will sue it.
Everything is cast with fluxed wheel weight lead, which has been water-quenched for hardness.
12ga 1oz Key Slugs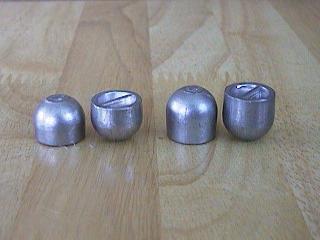 1oz Slug Pictured right.
These slugs perform very well in both smoothbore and rifled barrels.
20c each
Rifle
.457 - 405 grn Flat Nose.
Works excellently in .45-70
.22c each
312 - 185grn Round Nose
Great for .303 British, 7.62x54R, 7.7 Jap etc...
Socketed for gas check, with three lube grooves. Works equally well solid lubed or liquid lubed (ie. ALOX)

18c each lubed, sized to .311 and gas-checked.
.314 - 200gn Round Nose.
.22c each lubed with ALOX, gas checked and sized to .314
.309 160gn Round Nose Gas Checked
.20c each sized to .308 and gas checked
.243/.245 84grn RN
84 grain Round Nose Gas Check bullet. Designed by Guy Loverin. Holds lots of lube. Good for high velocity in 6mm (243) cal rifles.
14c each, $12 for 100, $50 for 500, $85 for 100. Gas Checked
PISTOL
9x19mm Round Nose.
.356", 124 gr RN - these are all I put through my Glock 17 and they function flawlessly. Sized and lubed with ALOX, these bullets perform and leave little leading with a decent powder load.
.6c each, $10 for 200, $25 for 500 or $40 for 1000
Additional .1c each if desired lubed and sized
.45 200gn Semi Wadcutter-TL
.452", 200 gr.
.8c each, $14 for 200, $36 for 500 or $65 for 1000.
.45 230gn Truncated Cone Flat Nose
.8c each, $14 for 200, $36 for 500 or $65 for 1000.
Buyer pays shipping costs.
For an quote, or inquiry, please PM me with what you are after, and your postal code for a shipping-cost estimate. Pick-Ups available in Antigonish, NS.
Please note I ship at cost based on the rate-estimator at Canadapost.com. Shipping ranges from $15 to $40 depending on the mass of bullets - its more cost-effective to order more rather than less.
Before asking for a quote, do a quick calculation as to the weight (ie. 200 bullets weighing 200 grains each = 40000 grain), type "40000 grain in kg" into google and you'll get the mass in kg. Add an additional .5 kg for packaging. Guesstimate the package size, and get an estimate on shipping from my postal code (B2G 1L9) to yours.
Its lead. It weighs alot, but I ship at cost, no S&H.
I also don't charge tax.